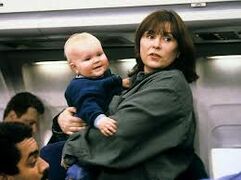 Cole and Morgan Roberts (both born in 1995) are twin child actors who were cast as infant Jerry Garcia Conner, who was the youngest child, born in 1995 on Halloween when Roseanne and Dan in Season 8 of Roseanne. Jerry was born in the "Halloween: the Final Chapter" episode at the start of Season 8.
During season 7, it was first planned by the producers, which include Barr, that Roseanne Connor's unborn child would be a girl, but Roseanne wanted the baby's gender to be the one of her real child, son Buck Thomas, born in 1995, thus led to the search for an infant to play the role of Jerry, the new addition to the Conner clan for Season 8, which led to the casting of little Cole, an infant at the time; his twin brother Morgan did, on occasion, substitute for him in numerous scenes. The Roberts brothers appeared in the final 21 episodes of the series in Seasons 8 and 9.
External links
Edit
Ad blocker interference detected!
Wikia is a free-to-use site that makes money from advertising. We have a modified experience for viewers using ad blockers

Wikia is not accessible if you've made further modifications. Remove the custom ad blocker rule(s) and the page will load as expected.